Baby Toys Pine Type Large Rainbow Stacker Wooden Toys For Kids Creative Rainbow Building Blocks Montessori Educational Toy Children
Regular price
$101.82 USD
Regular price
Sale price
$101.82 USD
Unit price
per
Sale
Sold out
Products information
Product Name: Wood Rainbow Building Blocks
Age Range: > 1 years old
Material: High-Quality Wood + Water Paint
Product Description

【BUY IT NO WORRY】 Nesting & Stacking Rainbow Block Set is pure natural wooden material, nontoxic, water-based paint, safe for children to play.
【SUPER LARGE SIZE AND 12 COLORS】 (L)X(W)X(H) 35.5X7X18.5cm /13.9"X2.7"X7.3"(appr.) This Wooden Rainbow Building Blocks have 12 different colors and sizes. Perfect learning toys and perfect wooden nesting puzzle/creative building blocks for your kids.
【OPEN-ENDED GAME】 Bring your imagination into creation, but not confined to bridges, houses, tunnels, hills, fences, beds & more. Whatever new ideas you come up with, just go ahead and try them out. You would never upset by those DIY options.
Real photos show
This is really a very magical toy, it can be building lots of model beyond your imagination.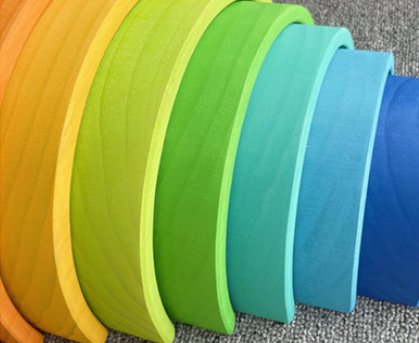 Share
When YOU Shop U Shop Now when U shop here at The B Word Opinion (SM) understand its a Limited Space for those who LOVE to SAVE and More.
We understand that U love to Shop & SAVE, but we have the SAVING PARTS DOWN, but what we have @ The B Word Opinion (SM) is very limited and its like a TRY IT FOR US, since this is The NU/NEW B Word Opinion (SM) Store and we plan on making it a LASTING part of us, if that is YOUR calling, if YOU like it BUY, but if not COOL and just READ & have lots of FUN, no matter what just lookin and Reading are 100% FREE, shopping will cost YOU but YOU still will have FUN DOING IT as well as SAVING A LOT O' MONEY doing what U Like.
Lets Party OUR ASSES OFF @ The B Word Opinion (SM)
Lookin' Sexy & Hot while searching the WEB and/or looking at this SITE, are WAY COOL & being U, even if its only in YOUR Head...remember its YOURS & ENJOY life the WAY U SEE FIT, U DON"T NEED ANYONES APPROVAL, NOT EVEN OURS. JUST DO THE DAMN THANG...ALREADY!
Taylor Swift - ME! ( ft. Brendon Urie of Panic! At the Disco) ( We DO NOT Own, nor control the copyrights to this music video or the song other than that ENJOY, PLZ)